Nihongo Hiroba for Kids
A class for children that want to study Japanese.
Children in their final year of kindergarten up to high school are eligible to register.
Students will work on their Japanese language homework from school and also receive help with Japanese that is used in their respective subjects at school. Games are also conducted.
Children can learn about the various Japanese terms through the many different activities that we conduct focusing on the different seasons and customs, such as holding an event in January to commemorate the new year, making masks and decorations during Halloween and more.
Do join for a fun time learning Japanese!
Day/Time
Saturdays 10.30am – 11.30am
*Closed during the summer, winter and spring vacations, and national holidays
Location
ONLINE (ZOOM)
Lesson Fee
FREE
As this class is conducted online, students are required to have access to a PC/tablet/smartphone etc. 
We do also recommend connecting via Wi-Fi if available. 
2022 "Nihongo Hiroba for Kids"
The 2022 "Nihongo Hiroba for Kids" will commence from the 14th of May.
Time
Saturday 10:30am – 11:30am
Location
Online
Join the class from the comfort of your home.
Course Fee
FREE
Target
Children above 6 and up to 3rd grade High School
Class contents
Working on homework from school, Japanese homework, and also topics that you want to study etc.
This class is conducted using "ZOOM".
As the class is conducted online, students will require access to a PC/tablet/smartphone etc.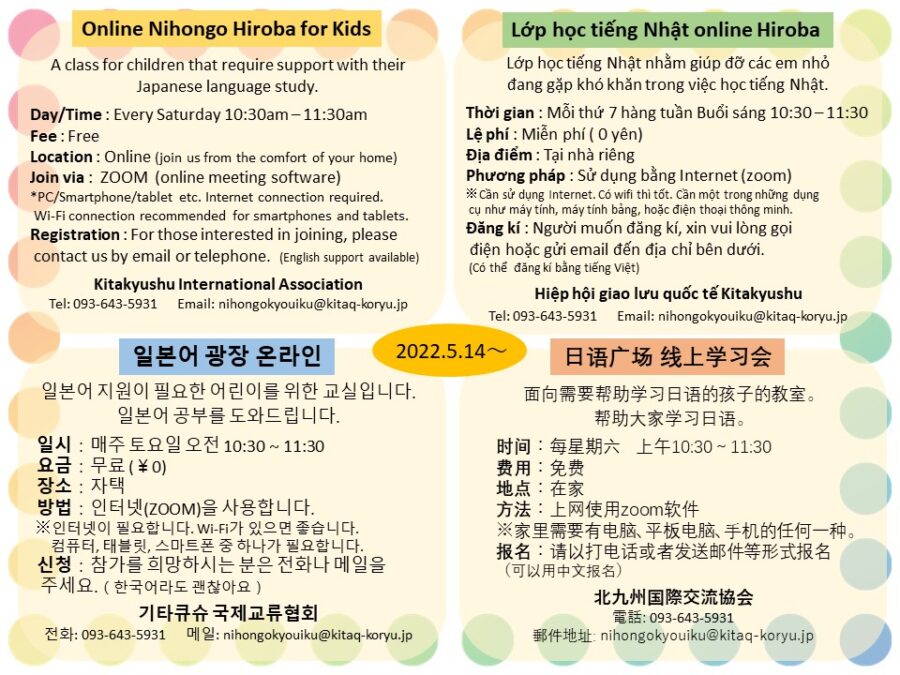 Nihongo Hiroba for Kids held in 2021
Participants:17 students and 30 volunteers (registered figure)
1st Term:5th June – 17th July (7 sessions)
2nd Term:28th August – 18th December (16 sessions)
3rd Term:15th January – 26th March (10 sessions)
(2020年度以前の実績は、「過去実績」をご覧ください)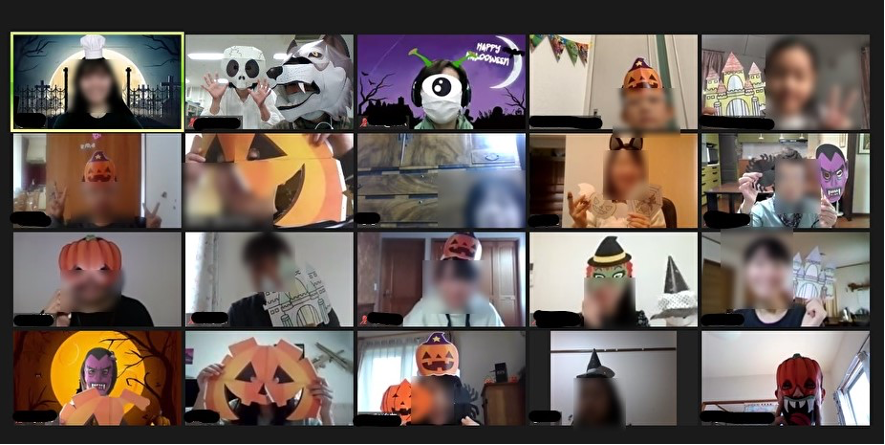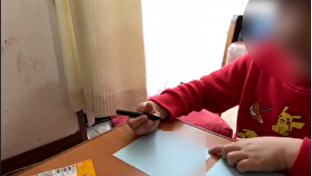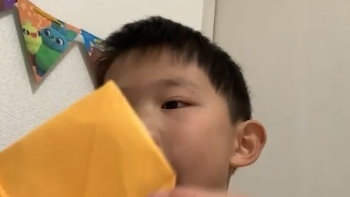 Testimonials from Students that Participated in the 2021 Nihongo Hiroba for Kids
★1st Grade Elementary School Student
I look forward to the Japanese class every week. My Japanese has progressively improved as I have been able to learn from the Japanese teachers in a relaxing environment. I'm really happy with this kind of class.
Thank you very much teacher!
★4th Grade Elementary School Student
The teachers at the Nihongo Hiroba for Kids are very kind.
The teachers also help me with things that I don't understand.
★1st Grade Junior High School Student
I have learned many things. It's fun. Thank you.
★3rd Grade Elementary School Student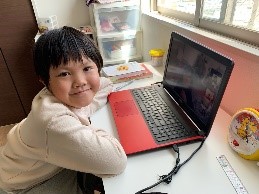 It has been fun studying Japanese every Saturday at the Nihongo Hiroba for kids.
I am now able to speak Japanese.
I could read picture books with the teachers.
Thank you to all teachers.
Registration/Enquiries
Please use the enquiry form below, or contact us using the details that we have provided.
Kitakyushu International Association (Coordinating Staff: Ms. Suenobu)
TEL :093-643-5931(Japanese) 080-6445-2606(English/Chinese/Korean/Vietnamese)