LET'S TALK!☆
Whether you are new to Japan, want to improve your Japanese speaking skills, or just make new friends,「Let's Talk!」is an exchange event where foreign residents and Japanese can enjoy interacting with each other. Games and small group discussions are held in a casual and friendly atmosphere.
Share about what you know and learn things that you have never known before.
Feel free to use either Japanese or English.
Held 5 to 8 times in a year.
Do refer to our homepage for updates related to the next "Let's Talk!" session☆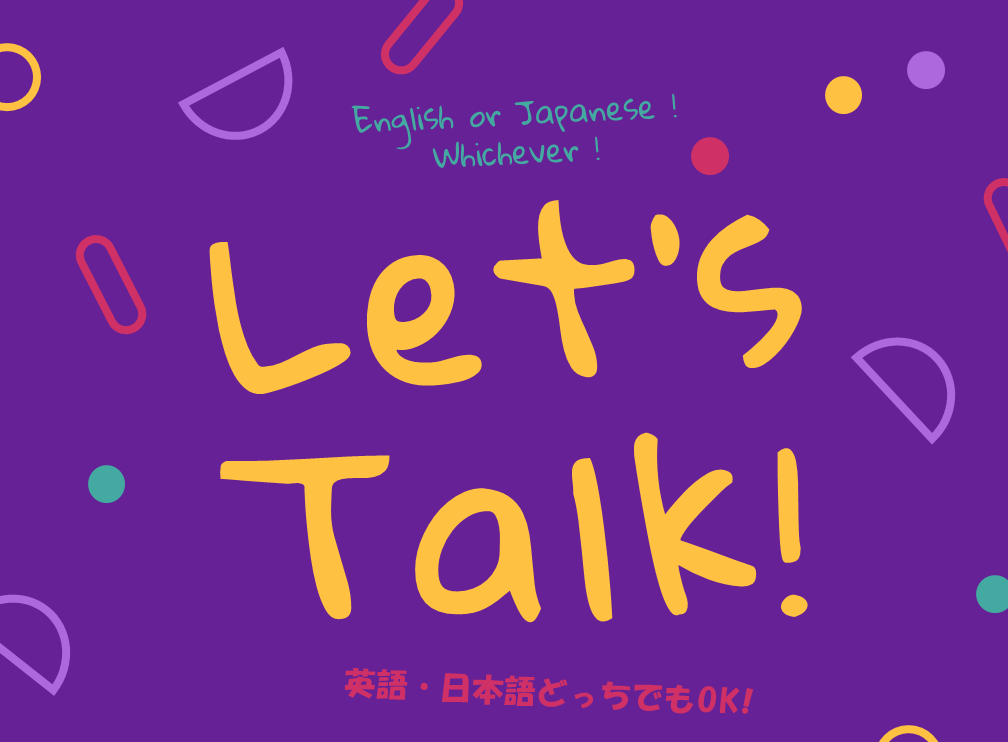 Event Flow (generally held on a Saturday afternoon)
Event introduction – 5min
Ice breaker games etc. (conducted in individual groups) – 15min
Group discussion based on selected topics (includes group change) – 60min
Q&A etc. – 30min
90min in total
◆This event is open to anyone aged 12 and above.
◆Participation Fee: FREE
Registration
Register via telephone or through our website.
Please refer to the respective event page for registration acceptance date.
*Registrations to close when target capacity is reached.
*Kindly take note that depending on the COVID-19 situation, there is a possibility of the event being conducted entirely online via ZOOM.
List of Previous Sessions and Participation Figures
・FY2022
3 December 2022 – 19 participants
23 July 2022 – 20 participants
・FY2021
11 September 2021 – 8 participants (online)
・FY2020
There were no sessions conducted in FY2020 due to the COVID-19 pandemic.
・FY2019 (7 sessions)
30 November 2019 – 20 participants
19 October 2019 – 22 participants
28 September 2019 – 20 participants
24 August 2019 – 23 participants
29 June 2019 – 29 participants
25 May 2019 – 18 participants
27 April 2019 – 23 participants
・FY2018 (4 sessions)
23 February 2019 – 34 participants
26 January 2019 – 34 participants
22 December 2018 – 33 participants
17 November 2018 – 21 participants